Eva's Story
My name is Eva….I am a member of the Bundaberg Orchid Society
This is my journey with Orchids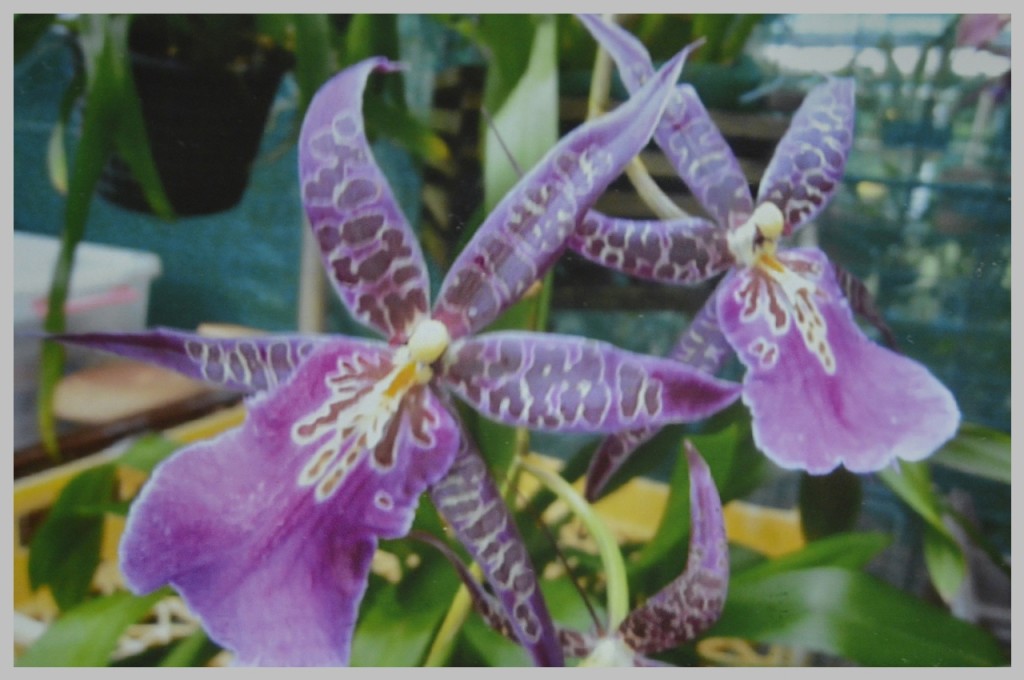 After retiring from Child Care in 2005, I was at a loss how to fill those hours. I looked for a hobby (amongst all the other stuff I had in my life like gardening, eight grand children all living in Bundaberg, church and friends and the big yard.)
For years if friends wanted to bless me I would receive a nice flowering orchid. So I had fifteen lovely Cat's which I grew in a fern House. They grew but not very successfully. I had no idea of their needs, so they were pretty tatty.
This all changed when I finally went to a May Bundaberg Orchid Show. I had planned to go for years but it never happened. So 2005 was the year the "ORCHID BUG" hit me and I joined the Orchid Society in 2007. How things changed after that as I learned how to pot, water, what medium to grow them in and what housing they needed. I learned about the fertilizer suitable for each type and each season.
Of course I also needed to upgrade from my fern house to a more suitable home for them. Col being forever supportive saw an ad for a green house for sale. We had a look and found a pipe cattle crate 3 meters by 2 meters, with benches for $60 and it came home with us on the back of our trailer. I told Col it was much too big and to cut it in half. He didn't. Stupid me for when I put all the orchids I had inside, the thing was full.
This became 
NUMBER ONE GREENHOUSE.
The second part of my journey with Orchids.
This starts with the small green house we purchased soon becoming full with Oncidium Alliance and many Cattleyas and so things had to change.
I started getting agitated about needing another green house. Poor Col
So in 2005 we purchased a 3x3x2.7 Peter's Glen Shade house. This came in kit form by rail from Brisbane. Thank goodness they provided an assembly video in the deal as without this there may have been war in our house. There were so many pieces and we did not know where to start the construction.
We had a 15 minute look at the video and then built this part. This was slow but successful. The walls were covered by 70% shade cloth and the whole process took one week. In my eyes it was beautiful and huge and I could not wait to shift my plants to a better environment.
So leaving the Oncidium Alliance in No 1, I transferred the overflow of large cattleyas and any Vanda Alliance I had into No 2. Over the previous year I had purchased quite a few Vanda Alliance orchids including Ascocentrum, Aerides and Rhynchostylis Gigantea.
These all needed higher hanging places. Most of these were small plants but they soon started to grow and grow in the new environment with long roots going from the top of the house to the gravel floor.
Every plant I put in there went ballistic and as a result this house soon filled to the top. I REALLY DID TRY TO CURB MY ORCHID BUYING!!!
I had wonderful help from my fellow growers but should have listened to some friends who said I was becoming obsessed with Orchids. But did I listen….. NO NO
This became 
NUMBER TWO GREENHOUSE.
First of all Col and I want to wish you a Happy New Year. I know that I am a bit late but time soon gets away. I hope all your Orchids are going well and you are coping with the wonderful wet weather we have been having.
I was looking at my Dendrobiums a few days ago and was thankful I had a solid roof for them. There are lots of flowers and spikes. I had re-potted these about three weeks before the rain, so there are lovely strong canes everywhere. I believe that you need a solid roof and bug protection for growing your dens. I had hung several dens under the trees because they looked nice, but they were there for two days only and our friendly Dendrobian beetles found them.
This is the story of number THREE GREENHOUSE. After we had built No 2 it was time to find a place to grow my dens. I had nowhere to put them for nothing was high enough for them to hang. Col was becoming very confident in what he could do regarding another house, so he suggested he get timber etc, and build one from scratch. WOW! So we drew a plan, checked the room we had, bought the timber, roofing and such and we started.
Col built it from treated logs which he painted. He put up hardwood battens which he fixed to brackets for the roof structure. The walls were galvanised mesh sheet he got from friends and he put a 70% light carbon roof on it, slanting towards the back and hung a large sheet of rio up inside ….which he got from behind the shed…..from the battens with hooks and this was for hanging up the fencing panels for the benches. The whole structure ended up being 5 meters long, 3.5 high and 4 meters wide. This was more than I had dreamed of getting. Naturally, Col was in the good books for a fair time and I was so proud of his skill in building my new toy.
This became 
NUMBER THREE GREENHOUSE.
I can hardly believe it is five months since I last added to the saga of our orchid houses. Time seems to be flying and life gets in the way of orchid stuff. Col and I have been involved in setting up and holding a huge garage sale. Not my idea of fun but it went well and the people who are in the know said it was the biggest they had attended.
It did start me thinking about the saying 'someone's trash may well be some ones treasure'. It was amazing and I needed all my will power to not join the frenzy. I am a great one for seeing the potential in stuff which others discard. Which brings me to the next orchid house Col and I acquired.
Of course once again I was desperate for more room for my plants. Col, being the sociable man that he is, chats to one and all and he started to chat to Robert Roth on one of his walks through the swamp. Robert had apparently been a club member many years ago. Circumstances in Robert's life meant he could not look after his plants anymore and had slowly let them all die over several years. Col asked if he was interested in selling the one house in good condition and he said he was, if we shifted it and cleaned up the area.
So first we had to clean out a whole house of dead orchids. Very sad but I did find a green shoot on one plant. Of course I took it home and nursed it back to life. Then we needed to get it home and as Robert lived on the other side of the bridge, I did not think that would be a problem. After all we had four children and eight grandchildren at the time, all healthy and strong. So an invitation to a BBQ saw them all here.
They lifted the house up and carried it to the road and with one child having a stop sign for the traffic we moved it across the bridge and into our yard. It was done on a Sunday so there was not a lot of traffic. Kids had a great time. Sorry I did not take a photo.
You see, Robert was glad to see it go and I was a happy girl. His trash was my treasure.
This became 
NUMBER FOUR GREENHOUSE
Stay tuned for the never ending story of the never ending greenhouses. A story we all can relate to ……."you can never have too many green houses!"
5,026 total views, 2 views today